Art (The Hindu, Monday, Dec 20, 2004 )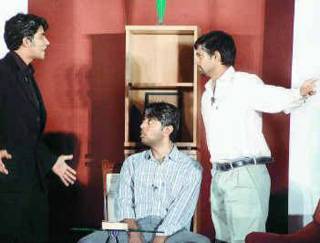 Karthik,Sunil and Jimmy

FRIENDSHIP TURNED SOUR: Marc and Serge have an argument as hapless Yvan looks on wondering whose side to take. Pic: K. Ananthan.
Art is all about friendship - its strengths and frailties. And, Evam managed to transport the audience to the time they spent with friends, writes SUBHA J RAO
EVER CAUGHT between two warring friends? Then, you'll understand the predicament of simple-minded Yvan better.
The proverbial good man who spends his time in a dusty stationery store owned by his fiancée Catherine's uncle, he is the one you'll identify with most in Yesmina Reza's `Art', staged recently in the city by Chennai-based Evam.
About Art
Yvan does not argue with anyone - he agrees with all. But, an ego-tussle between his two buddies — dermatologist-turned-art aficionado Serge and the smug out-of-the-box thinker Marc — turns his idyllic life a little complicated.
The root of the problem? Serge buying a `white painting with diagonal white lines' for 200,000 francs.
Marc is stunned that his friend could actually pay so much money for `nothing' (after all, what is white on white?) and tries to get Yvan to toe his line of thinking.
Yvan being Yvan, tries his best to make peace, but ends up being called an amoeba and told in no uncertain terms that "Whatever you do, don't be pleasant."
Painting trouble


The plot is pretty simple. And, if you wondered how much trouble a painting could possibly cause, you'll be in for a surprise.
Each of the trio drags every little problem, real and imaginary, out of the closet in his attempt to prove he is right. The usually unflappable Serge tells Marc that he hates the way his (Marc's) wife Paula reacts to someone smoking.
Marc, who is disappointed and worried that a painting has taken his place in Serge's life, directs his anger at Serge and gets labelled an enemy of modern art. His carefully chosen barbs, timely sniggers and `tolerant' tone achieve their effect - that of irritating Serge.
As for Yvan, caught amidst a stepmother he hates, a mother who feels neglected, and Catherine, who wants her stepmother's name on the wedding invite, friends are his only solace. And, when an evening with friends goes from bad to worse, he is devastated. His whining tone and passiveness is refreshing in the battle of words between Serge and Marc.
Most of the laughs were reserved for his innocent one-liners or paras, like the one he attributes to his shrink.
When he studiously read from his paper: `If I am who I am because I am who I am, and You are who You are because You are who You are, then I Am who I Am and you Are who you Are. But, on the other hand, IF I am who I am, because You are who you are, and You are who You are, because I am who I am, then you Are Not who you are, and I Am Not who I am', the Nani Kalairangam, venue for the play, erupted into laughter.
The 90-minute play ends when Serge, realising that the painting led to fissures in his friendship with Marc, allows him, in one sweeping moment, to render the painting no longer white.
And, the trio stays happy ever after.
Good response
For a city where English theatre is not very active, the play, brought to town by the GV Centre for Performing Arts, elicited a good response.
But, some things never change.
Despite a graphic request to desist from using cell phones, some chose to ignore the message, much to everyone's annoyance. That itself was proof of how involved people were in the play.
Karthik Kumar was brilliant as the smug Marc and Jimmy as the offended Serge. But, the audience sympathy was reserved for Yvan, played with perfection by Sunil Vishnu.
Sunil and Karthik of Evam said they were happy with the public response. "The audience was neat... they laughed at the right times and did not reduce the play to a farcical comedy," said Karthik.
Sunil felt there was a lot of reaction from the audience. "Each audience perceives the play differently... the crowd here was educated and a discerning lot. It knew when to laugh and when to enjoy in silence."
However, Karthik says he would like to see more youngsters attend plays. "Tomorrow's audience is the youth and they must attend shows."
The play was well rehearsed and the diction just perfect.
During the interludes and scene changes, Iswar of Evam entertained all by mimicking the playing of different instruments and acting as a modern-day sutradhar.
The people seemed impressed most by the gripping story and the pace at which it moved. Also, the flowing diction and the stage setting.
"The show had a mixed audience and each one of them seemed to enjoy. Even the occasional use of four-letter words did not stand out because they fell in place perfectly with the dialogue," felt Rajini Varadarajan, Trustee of the GV Centre.