Barefoot in the Park 2005....COMING SOON !!!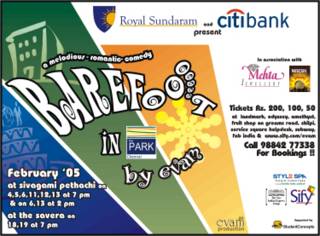 The schedule of events is as follows:
Barefoot in The Park soundtrack
launch at Landmark, Spencer's Plaza on January 15.
Sing barefoot for a cause
edition on January 15, 16 and 23.
Concert at Unwind Centre
on 21 Jan 2005
Walk barefoot for a Cause
rally on January 21, starting from The Park
Movie Screenings
of Barefoot in the Park at The Park on January 22, 29 and 30.
EVAM's play, `Barefoot in the Park', will be staged on February 4, 5, 6, 11, 12, 13, 19 and 20.